How to Start Your Virtual Assistant Business
10 Steps to Earn Online as a Topnotch Virtual Assistant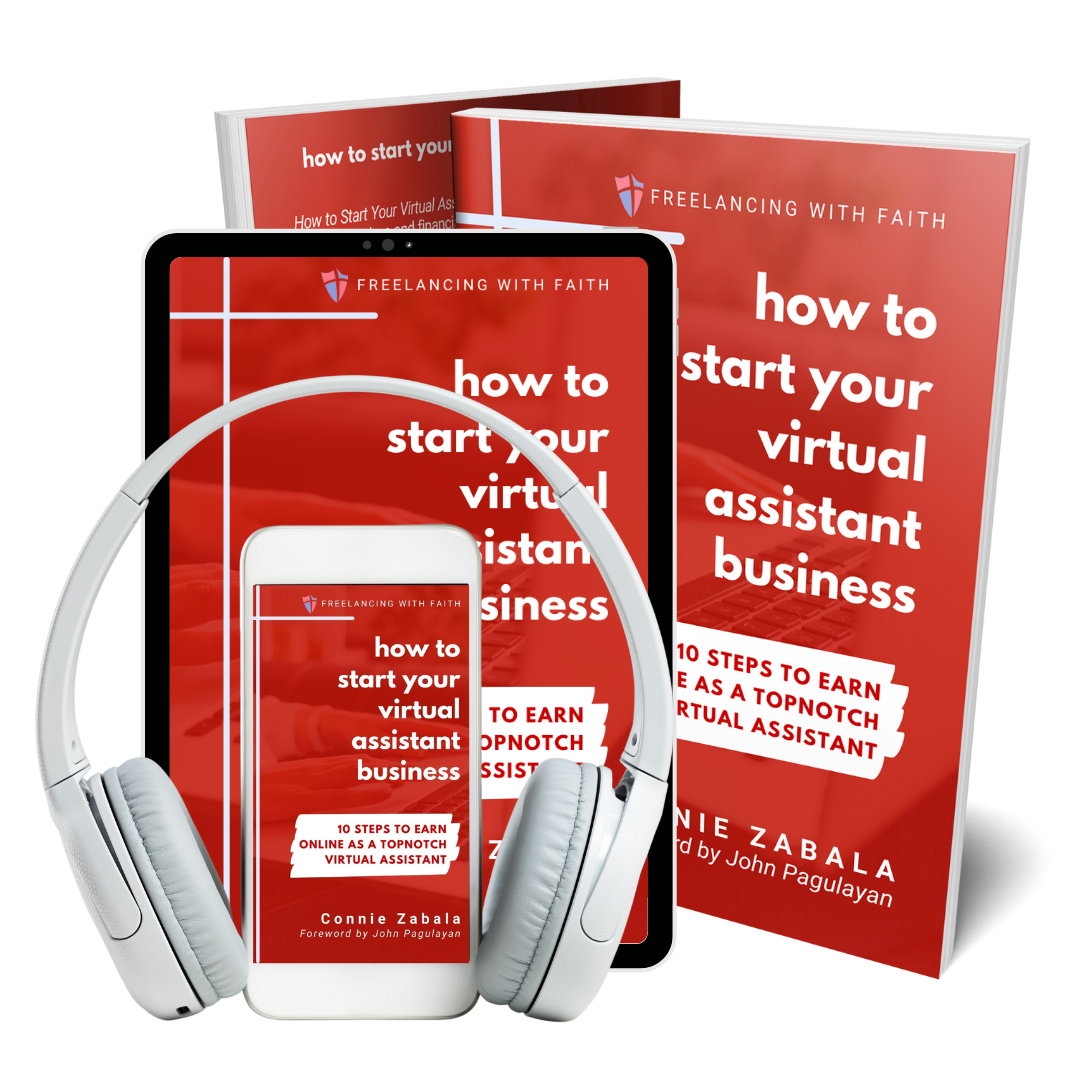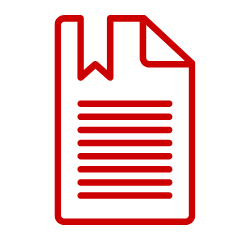 In this book, you will see a simple and easy to follow how-to guide where the author shares 10 bite-sized chapters and guide questions to help you:
Create your online profile based on your personality and what you already know.
Qualify clients instead of them qualifying you.
Make money online without subscribing to any online freelancing platforms.
Learn how to market your virtual assistant business without pitching.
Systematize your freelancing business and avoid the "feast and famine" cycle.
When you finish this book, you'll know the best ways to earn online as a topnotch virtual assistant, build a thriving online business, have a consistent online income, and get the time freedom you always wanted.
"What Connie has produced is a framework for starting and developing your freelance business from the ground up minus the guesswork."
– A Foreword snippet by John Pagulayan
Chapter 1
A lot of people ask me how to start working from home or how to be a virtual assistant. I usually don't give them an answer.
Instead, I ask them this question: "Why do you ask?" The most common reason they give me is that they wanted to have an additional source of income.
Let me warn you, though. If your reason is the same as them, you won't probably be able to reach the end of this book. Just looking for extra money won't cut it, because if you found another way to earn that additional amount, you'll forget about this book instantly.
Know that this was NOT written just for you to read. You'll need to think, ask, and take action. This book will take you out of your comfort zone.
If your "WHY" is not that deep, you'll give up easily. If your why won't push you to move, you will not reach the end. If your why won't make you excited to get up every morning, then I'm afraid this book is of no use to you.
Yes, it's not the "how" but the "why". The "how" can be learned from others but only YOU will be able to come up with the reason why you want to do it.
Now, let me ask you again. Aside from having an extra source of income, why are you interested in working from home?
If you're having a hard time answering, let me share mine with you. They're really simple, but it's not just the statement but the story behind it.
1. I want time freedom.
I remember one time when I was still employed. An unexpected opportunity came knocking at my door. I was given an all-expense-paid trip to another country with my daughter.
I know the possibility was low but I still asked the company I worked for if I can have 25-day vacation, and I am sure you know what happened next. One of my coworkers even thought I was looking for another job. Unbelievable!
You probably know now why my first reason is to have time freedom. It's because I want to travel when I needed or when I wanted to. Attending an event won't be a problem too.
I can go on vacation and bond with my family anytime, and I can serve my church and community whenever I need to. I want to do whatever I want, whenever I want without securing an approval from a boss or supervisor. I want to own my time.
2. I can't tolerate office politics.
Office politics is something I am NOT really fond of. I can't even remember how many times I fell victim to one. It's so hard to move. I need to be extra careful of what I say or do because I do not know who are being real or not among the people around me.
3. The daily commute tires and stresses me to the core.
This might really be too simple a reason for some but not for me. When I was employed, traveling to and from the office took four hours. It was tiring but there was a time when I just got used to it.
Until that one point in my life.
Remember my story about tropical storm Ketsana (Ondoy)? That time, I really pitied myself for looking like a piece of meat for sale on a truck. But what can I do?
There was no other way to cross the waist-high flood. I was thankful to the truck driver but deep inside I knew that I've had enough.
These are my top three whys. I hope sharing these with you would help you in determining "why" you want to work from home.
Now that you've identified your "why", let me guide you in creating something that will remind you why you chose to work from home.
What if —
– You want to spend more time with your children because they grew up so fast you think you didn't have enough time to see them grow
– You're tired of hopping from one job to another because you are not happy with it
– You long to have a flexible and freedom of time so you can actually do the things that matter to you
Those are all possible when you start your virtual assistant business!
Not preachy nor pushy. I love how Connie shares her personal story while introducing the basics one should know when it comes to starting an online business. Totally recommended for those who've been wanting to start freelancing without feeling overwhelmed. Don't turn that page without answering the check ins at the end of each chapter!
An excellent book that will help you make sense of the freelancing world. Each chapter is presented chronologically and will not overwhelm the reader. I personally like the questions and activities in each chapter as they give you a chance to reflect on the lessons.
No matter how experienced you are with freelancing or whether this is your first venture, "How to Start Your Virtual Assistant Business" will give you the right foundation and mindset needed to run your business. Get your copy now! Thanks again, Connie!
I know it was God's plan when I bumped into Connie's book. I've gone through answering my seven deepest whys and true enough, I started crying in the end when I figured it out. With so much authenticity and without being pressured to provide good comments about her book has saved me, not just professionally but also spiritually. It is a gem. May God continue to bless you, Connie.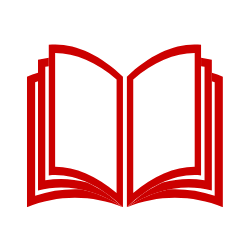 Chapter 8
Engaging with Ideal Client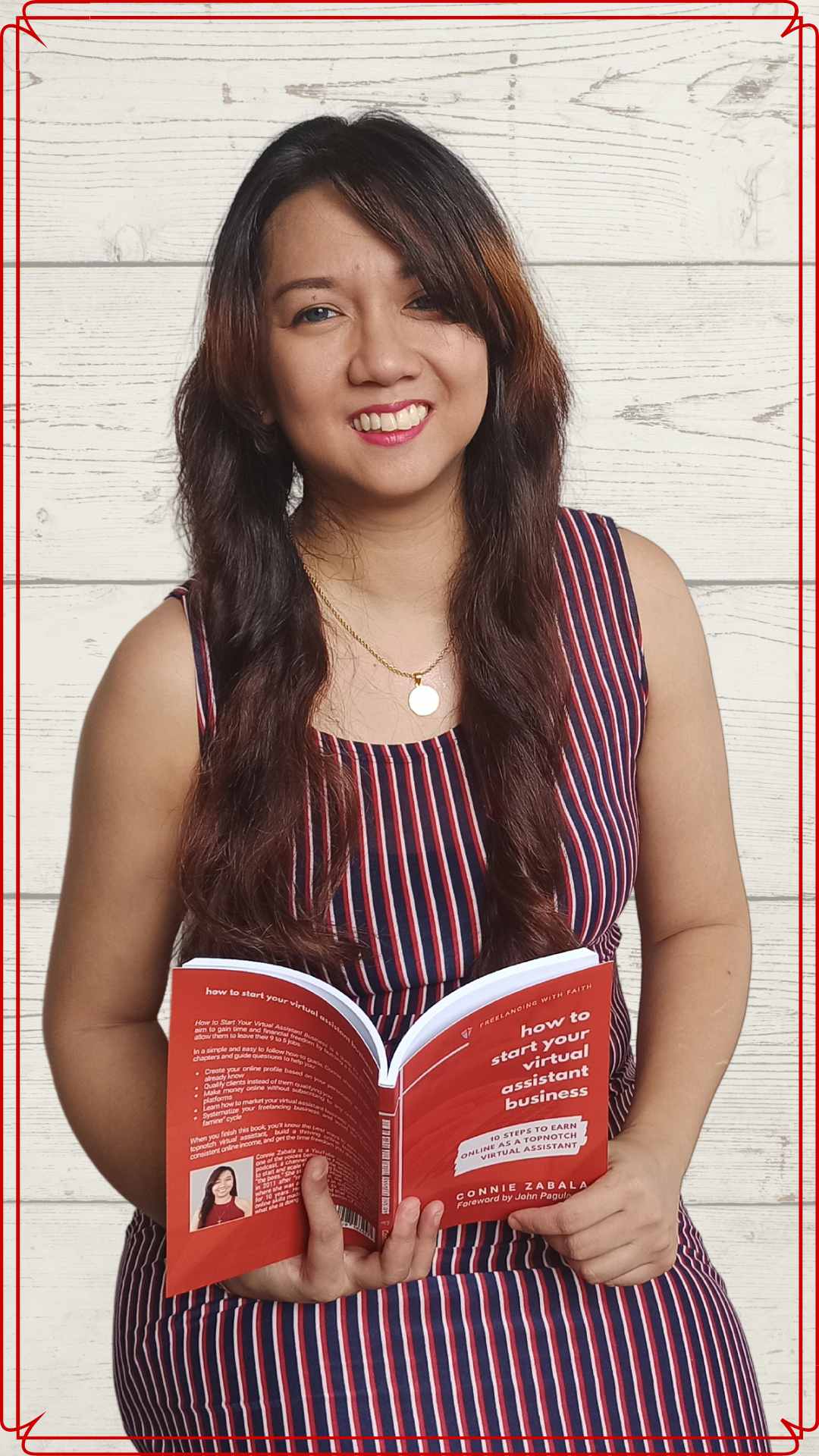 Connie Zabala is a continuous and persistent learner of digital marketing. She has worked with entrepreneurs and business owners in different industries including personal development and life coaching, yoga and meditation, and online marketers.
She is a daughter, a sister, and a mother. One thing Connie enjoys the most is the chance to serve her spiritual community through music ministry and events production.
Connie hopes to serve as an inspiration to fellow single parents and people who are hoping to get more than just a corporate job. She believes that a part of her mission in life is to help them discover an online business that offers the flexibility to do it anywhere, have the freedom of time to enjoy it with the people they love, and do the things they love most.
How to Start Your Virtual Assistant Business
10 Steps to Earn Online as a Topnotch Virtual Assistant